OUR VISION / OUR MISSION
VISION
A community of artists, writers and creatives living, working and sharing experiences.
A place to explore individual artistic projects in depth.
A quiet place where you can rest, relax and focus on a specific project.
A place to be inspired while surrounded by nature, culture and rich history.
A place for cultural exchange between the residents, hosts and community.
MISSION
To provide artists, writers and creatives time and space to work, individually or collectively, on their projects.
To provide residents physical distance from their daily life in order to help them gain perspective and help them focus their energy on creation.
To provide artists with opportunities to connect to the rich cultural and historical heritage of the region (Perigord Noir, Dordogne, France).
Bring contemporary culture to the region with artist talks and events.
WHAT WE OFFER
Room/Board:
– A bedroom and private bathroom at "Manoir de la Moissie" – a 16th century hunting lodge built on the mound of an old feudal castle. We are located in the beautiful village of Belvès, in the Périgord Noir, Dordogne.
– 2 meals a day + access to cupboard and kitchen.
– Free Wifi.
– Use of common spaces: living room, kitchen, gardens, etc.
– Access to swimming pool.
Creative Space:
– 1 artist's studio with natural light.
– 1 large versatile studio space.
– Several large gardens.
– An outdoor greenhouse for contemplation and creative thought – coming soon!
– A larger on-site studio – coming soon!
---
Transportation:
– Pick up/drop off from the local train station or Bergerac airport.
– If you fly into Bordeaux or Toulouse we will explain how to take a bucolic train to Belvès.
– If you fly into Paris we will explain how to take the TGV to Bordeaux and then a bucolic train to Belvès.
– A car to use locally (international driver's license and insurance required).
Quiet: A 4 min walk from the small village of Belvès, Manoir de la Moissie Artists & Writers Residency is tucked away on a hill hidden behind 400 year old trees.
Contact with nature: Local walks and hikes. Dordogne river – canoeing, swimming, visit.
Historical Sights – Prehistoric and Medieval: Visits to local historical and cultural sights. For example: Lascaux IV, Château de Beynac, Château de Castelnaud, Château de Commarque, Pôle d'Interpretation de la Préhistoire.
High Quality Organic Food: At our home we buy and support our local organic farmers. Working with them means that the meals and food you will be provided will come straight from their farms. This includes: produce (fruits and vegetables), eggs, cheese, milk, yogurt, poultry and some meat.
WHAT WE EXPECT OF INVITED ARTISTS & WRITERS
Commitment to our vision and mission.
A desire to work, learn and grow creatively.
A collaborative and flexible attitude.
Respect for the property and surrounding community.
The contribution of 1 piece of artwork at the end of your stay.
The contribution of a small text about your stay. The focus of which can be:

your creative process and inspiration.
a description of the artwork you chose to contribute to our collection.
reflections on your experience in the Perigord Noir, Dordogne region.
any internal contemplation derived from your experience here with us.

If you publish or present the work you do here in another location, we kindly ask that you mention that part of the creative process took place here with us.
While here, we appreciate if you can connect to your digital platforms to post about your experience, and allow us to promote our residency through our own channels.
An Artist's Talk – an opportunity to present your work to our small community (optional).
YOUR HOSTS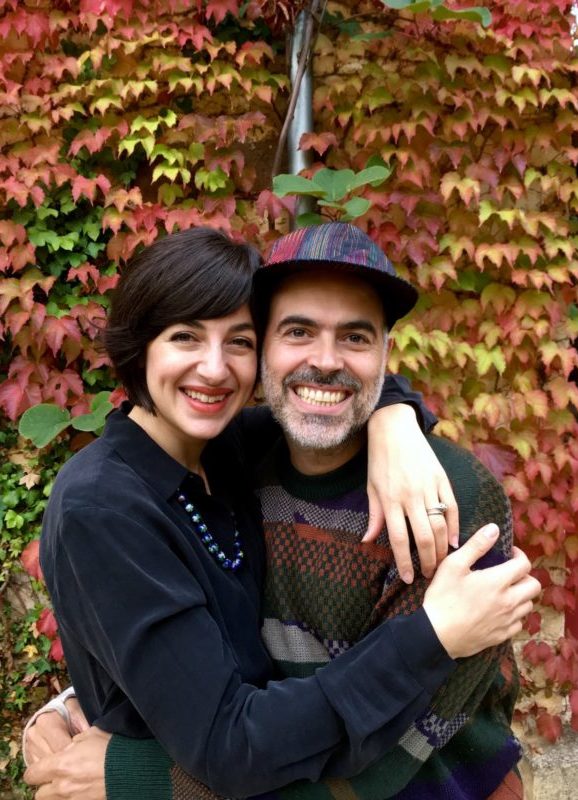 Sierra & Xavier arrived in Belvès in 2014 after travelling and living in several countries. Sierra, an American originally from New York, left the United States in 2005 for Madrid where she worked as a teacher for 6 years. She met Xavier Eltono, a French artist with an international career that spans more than 20 years during her last year in Spain. They moved to China together when she took a job at the China University of Geosciences in Beijing and lived there for 4 years. In 2014, they decided to come to the Perigord Noir to start their family. Their son, Marcel was born in Sarlat the same year. At our home we speak English, French, Spanish and a little bit of Chinese.
OUR ARTISTIC COMMITMENT TO THE REGION
Once in a while, Manoir de la Moissie may hold events that showcase it's artistic collection. We will inform you of these events ahead of time and let you know if your work has been included.
COMING SOON!
An outdoor greenhouse for contemplation and creative thought.
A larger on-site studio.
Pop-up gallery and studio space in the village.
Connection with local galleries: regional + Bordeaux & Toulouse.
Connection with local foundations: departmental (DAC) regional (FRAC).
---

RESIDENTS: FORMER, CURRENT & UPCOMING!
Brad Downey
2018 – Invited by Le Dédale and hosted by Manoir de la Moissie
https://www.braddowney.com/
Pascual Arnal
2017 – Invited by Le Dédale and hosted by Manoir de la Moissie
http://pascualarnal.com/
Daniel Muñoz
2017 – Invited by Le Dédale and hosted by Manoir de la Moissie
http://www.eseaene.com/
Louis Lambert
2016 – Invited by Le Dédale and hosted by Manoir de la Moissie
https://www.3ttman.com/